Midas City Stories
These stories take place in the same world as The Adventures of Silver Girl but are not directly a part of her adventures! These stories may rely on others to get the most from them, and if so, that will be noted appropriately.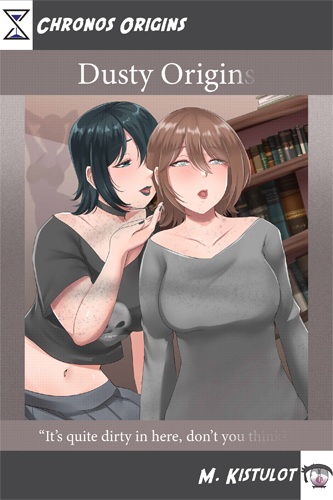 Prerequisites: None
Shannon is working her dream job at Weisman's Shelf, a used book store in the heart of Midas City. It isn't the most glamorous place, but it is full of rare, hard to find, and exotic books that she gets to see before they move on to their new homes. Her boss, Leslie, has to pay her to go home instead of work. She might live in a city full of super heroes, but her life is fairly mundane. That's the way she likes it.
The only real thorn in her side is the weekend girl who works at Weisman's Shelf. She seems to go out of her way to put things in the wrong places. Shannon is good about catching it, but this also means she finds a mysterious book that claims to be full of real magic. What will happen when she opens it up, unable to resist exploring the secrets inside? What potential, what possibilities await her?
A prequel to The Adventures of Silver Girl, this story explores dark themes, and shows another perspective on the city of Midas with plenty of erotic, sapphic delights.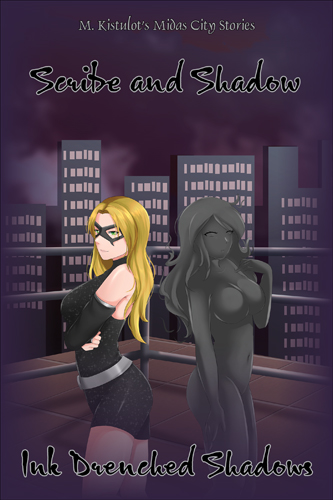 Prerequisite: Do not read before Ink Soaked Penumbra and Red Moon Rising!
The red moon of the Nesatealia never rose, but one glaring problem remains: Quillspawn, the woman created from Yana N. Ritter's depression and self deprication. Neither Yana nor Aniela can rest until the inky spectre of their past is finally put to rest, so that means they're teaming up and heading to the nearby city of Twilight Falls... but are their combined skills enough to stop the inky terror? Will something unstoppable await them? A tale of sex magic, finding love in unusual places, and super heroines tightly entangled in lesbian lust.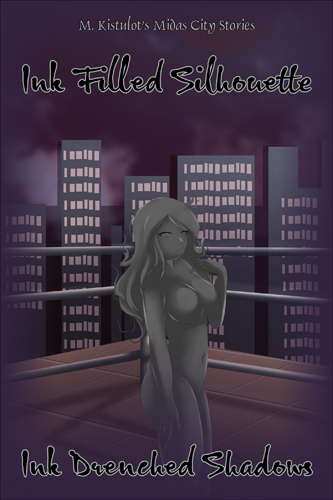 Prerequisite: Do not read before Ink Soaked Penumbra!
Silver Girl may have missed out on what it was like to experience the fall of Chronos, but Silhouette wasn't quite so lucky. Aniela's difficulty with her time in Chronos, and her recovery, is the subject of this tale. From her treatment at the hands of Jesse Colloten, to her treatment at the hands of the women responsible for putting her mind back together, Aniela suffered a lot... and that was before The Domina came to town.
This story takes place over varying time periods from Silver Eclipse to just before the Ink Slick Preamble. A tale full of sex, control, magic, and longing.