The Adventures of Silver Girl
Original Story: 86,608 words
Second Edition: 168,772 words
By day, Sarah LaSilvas is a waitress working for a woman named Linda who runs her own diner. By night, she becomes Silver Girl and takes to the rooftops to defend those who share her home of Midas City. Most of her patrols are uneventful, but when they aren't they're always memorable.
Silver Girl's life is turned upside down when she receives an invitation from a mysterious woman sent by the company Chronos. They claim to offer training, supplies, and funding to supers. When she goes to their 100 story headquarters to refuse, she is drawn into a web of hypnosis, mind control, and far more intimate situations with the women of Chronos than she would have ever imagined. An erotic, fetish fueled tale of brainwashing, hypnosis, and superhuman mind control.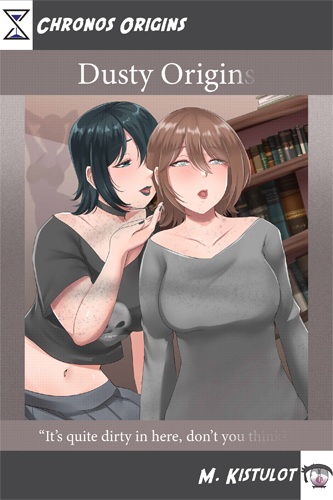 Dusty Origins
Shannon is working her dream job at Weisman's Shelf, a used book store in the heart of Midas City. It isn't the most glamorous place, but it is full of rare, hard to find, and exotic books that she gets to see before they move on to their new homes. Her boss, Leslie, has to pay her to go home instead of work. She might live in a city full of super heroes, but her life is fairly mundane. That's the way she likes it.
The only real thorn in her side is the weekend girl who works at Weisman's Shelf. She seems to go out of her way to put things in the wrong places. Shannon is good about catching it, but this also means she finds a mysterious book that claims to be full of real magic. What will happen when she opens it up, unable to resist exploring the secrets inside? What potential, what possibilities await her?
A prequel to The Adventures of Silver Girl, this story explores dark themes, and shows another perspective on the city of Midas with plenty of erotic, sapphic delights.

Silver Eclipse (Coming 2019!) - Original Story, 81,380 words

The Memory Remains (Release TBA) - One Story, 66,687 words