One Shots
These are either stories that are finished up rather nicely in one piece, or otherwise do not belong to a longer saga or series of related stories. If a one shot ever expands to become a series of its own, it will no longer exist in this section.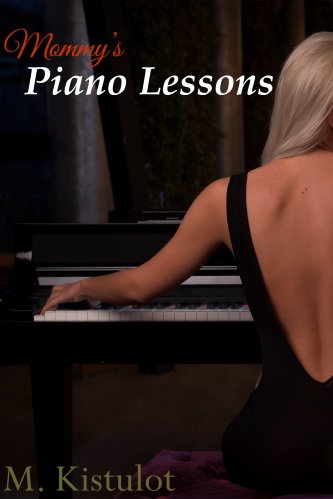 Mommy's Piano Lessons
Liz has always wanted to learn how to play the piano, and now she's found a way. An older woman named Ashley is happy to teach her—using hypnosis! Liz has tried to experience hypnosis before with no luck, just like she's tried and failed to learn the piano. In trying to grasp at one last chance to live out her musical dreams Liz takes a chance on Ashley's lessons, but neither of them are ready for what happens when they sit down at the piano!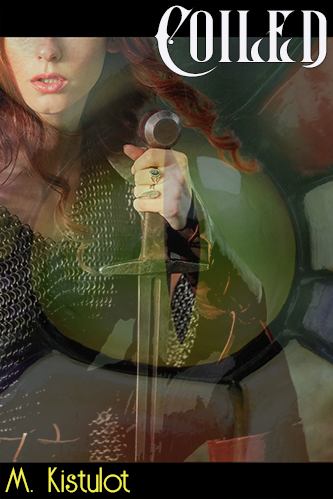 Coiled
Alannah is an adventurer traveling through the world looking for excitement and opportunities to make the world a better and safer place. When she comes to a settlement that whispers rumors of a monster in the nearby ruins she goes to investigate to help keep the people there safe.

Besides whatever beast she may find, Alannah brings with her memories of an adventurer she knew in the past who fell prey to a creature's wiles... and what she finds in the ruined ziggurat may be something more than she's ready for.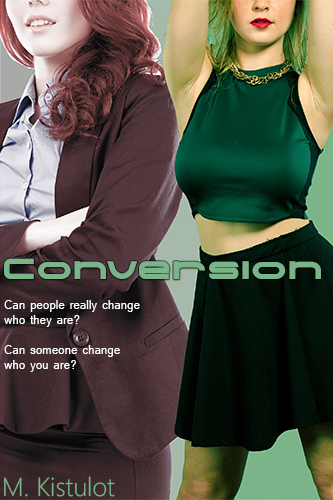 Conversion
Tanya has been waking up at night lately without really knowing why. When she goes to check in on her roommate and best Claire friend she sees something that worries her. Is someone trying to do something nefarious to Claire's mind? As things start to happen to Tanya as well, she must decide if she's to intervene, or if it's already too late for them both...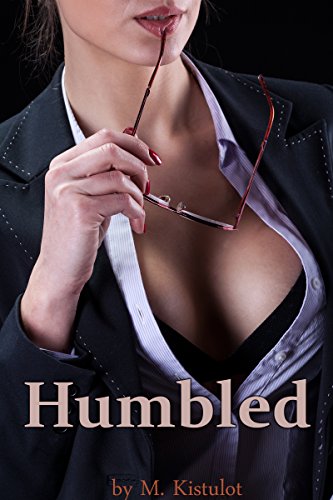 Humbled
Brooke is over worked, under appreciated, Grace's behavior isn't helping. She still has her pride, but how long will she keep that when things only keep getting worse?
A dark, taboo tale of office place sexual misconduct, bondage, and lesbian sex.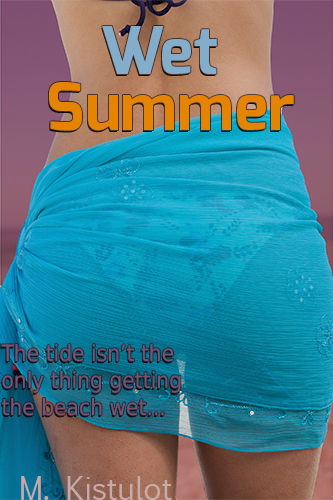 Wet Summer
Summer takes a vacation and gets an unexpected chance to enjoy the beach. However, she ends up more than just a little wet when she starts to hear something enchanting coming from the ocean...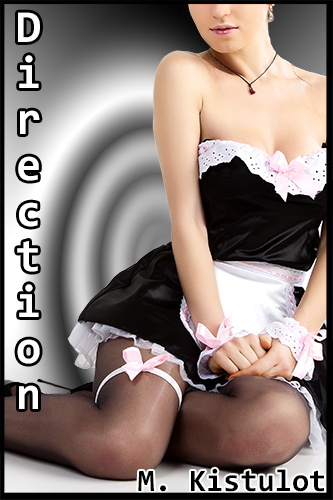 Direction
Danella is a lit major. She loves literature, and she spends as much of her time as she can buried in a book. Her roommate Shana is a premed student who is concerned that Dana is still feeling directionless and uncertain of her future. Shana has a solution for Danella that will give her a path to follow and is sure to make both of them so much happier...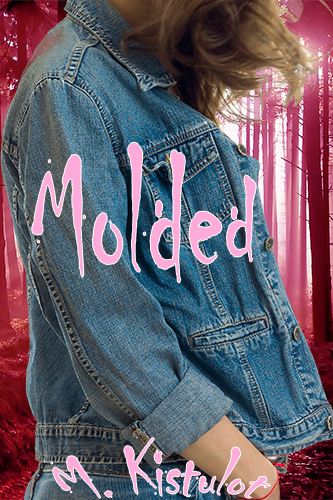 Molded
Kimberly is the kind of woman who likes to drive out to the middle of nowhere and explore old logging roads when she needs some time to think, and that's definitely how she's feeling. Her mind is wandering back to an old lover, a woman she's lost for a long, long time.

What she finds in the woods isn't what she was expecting, but it may be just what she needs to get back everything she's lost...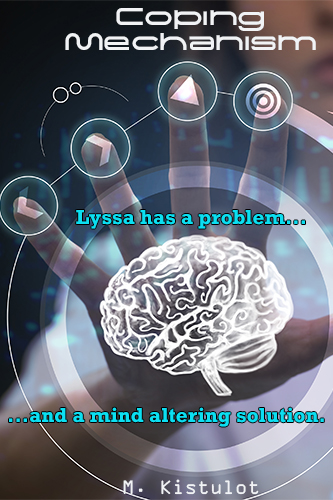 Coping Mechanism
Lyssa and Cynthia have been going through a great personal tragedy. Cynthia hasn't been able to stop crying. Lyssa has been doing everything possible to try helping her... but she knows that she isn't enough.

There was only one woman who could make everything better, and if Lyssa has to find a way to bring her back to fix things... she will. A tale of romance, erotic desire, and loss.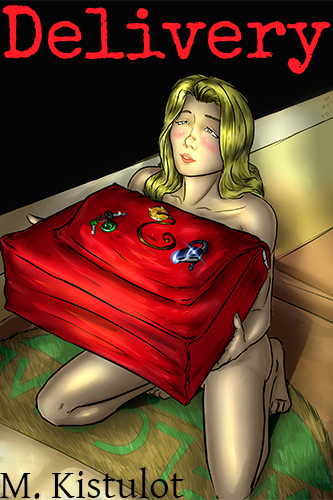 Delivery
Inspired by the works of the legendary erotic mind control author trilby else, Delivery is the story of Hannah, a pizza delivery woman who gets an offer for the pizza she delivers to be paid for with something other than money and is pulled into a tangled web of hypnosis, drugs, mind control, and lesbian sex.
Just who is the woman tangling Hannah's mind into knots? Just what does she have planned for Hannah as she is kept awake, pulled in and out of reality and fantasy, driven ever closer to being her Mistress's over eager plaything. A dark tale of mind control erotica, Delivery explores the depths of surrender, of obedience , and just what it means to truly lose one's self to another.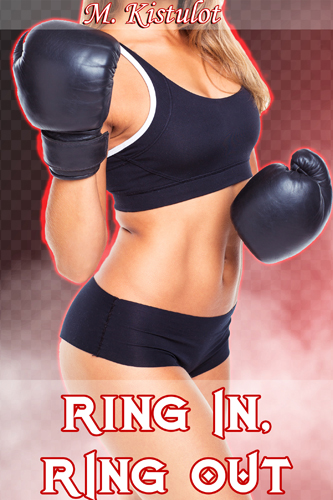 Ring In, Ring Out
Freya is at her local gym hoping to get in a good exercise. Her favorite way to do that? A little bit of friendly boxing. It helps her work up a good sweat, and it keeps her in shape. She'd never go for pro, but she cares about looking good, and feeling good. Her body shows that off very well.
When a woman she's never met strikes up a conversation, speaking with her hands as he continues to gesture, Freya starts to feel... strange. Is there something special about this woman's ring? Is she going to go down for the count without putting glove to glove?
A story of very public mind control, and taboo lesbian sex.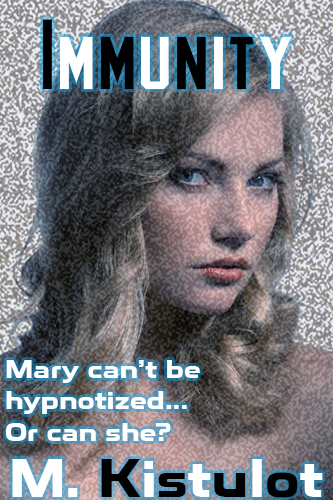 Immunity
Mary's friend Rita insists that she's never tried to hypnotize someone and had it fail, but Mary still insists that she's immune to hypnosis. Is Mary immune? Just why does Rita want to take her friend deep under her hypnotic sway?
A story with dark themes, and sizzling hot lesbian passion.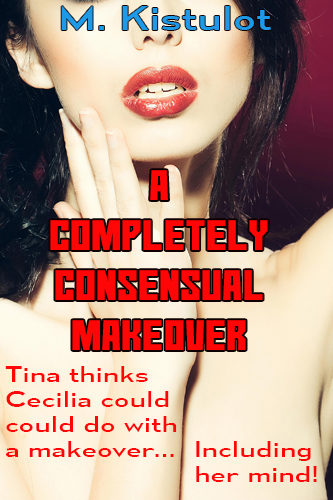 A Completely Consensual Makeover
Cecilia let her friend Tina drag her to the mall, but she has no idea what's in store for her! The two couldn't be more unalike at a glance. Cecilia likes to barely wear baggy, dark, colorless clothing. She likes to go relatively unnoticed. Tina likes to wear bright, vibrant, eye-catching clothes.
After her makeover, Cecilia will find it a lot easier to enjoy things being brighter, and her own mind being simpler...
An erotic tale of a completely consensual makeover, turning a woman who likes the darker things in life into a beautiful bimbo so eager to please her best friend in any way she can-especially with her body.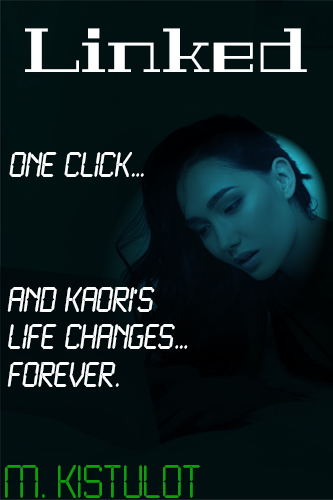 Linked
Kaori has had a long day, but she's finally home from work with a chance to unwind. That's when she gets an email about a sexy new webring that her friend Holly found online. Nostalgic for web 1.0, and curious what Holly found so hot, Kaori follows the link... and is the next link in a chain of sapphic mesmerism.

A story of lesbian conversion, serial recruitment, and MIDI beeps.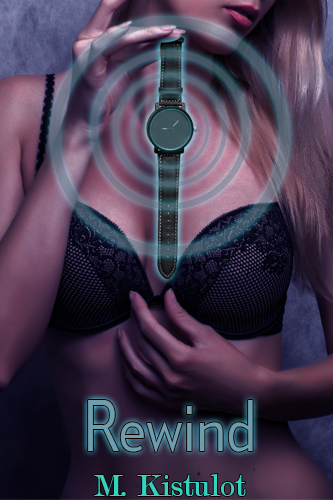 Rewind
Dawn is the most important person in Tanya's world. No one else even comes close. Unfortunately for her, Dawn ended up marrying a firefighter named Roland, instead of her. That leaves her with only one chance, one choice, to make things right... Time travel.
What will happen when Tanya goes back to set things right? What will that mean for Dawn, and Tanya?
A story of time-space schenanigans, lesbian obsession, and erotic power exchange.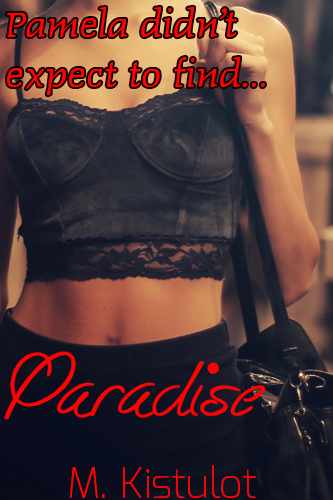 Paradise
Pamela is walking home at night. It's darker than she likes, and she's lost in her own worries and paranoia... and that's when she stumbles upon an enchanting woman who is incredibly beautiful, charming, and will change her life forever.
A story of lesbian seduction, ensorcellment, and long lasting devotion from a chance encounter.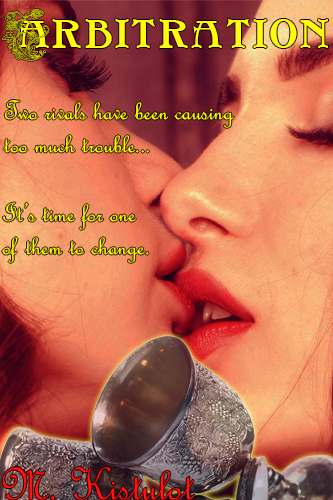 Arbitration
Lorena and Rhian have been rivals as long as they, or anyone else, can remember. Their disputes have split the realm in two, dividing guilds, nobles, all but the very elements themselves.
The queen has called a woman to put a stop to this, and her solution may be quite... unusual.
A story of lust between rivals, with lesbian lust and power exchange.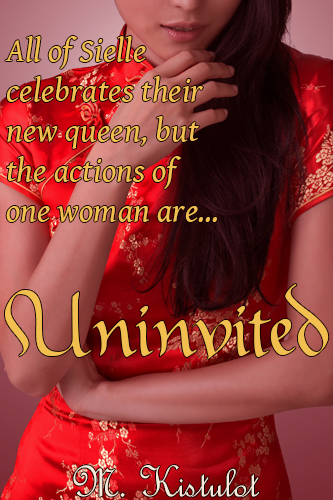 Uninvited
Sielle's newest queen is finally being given her crown after a long time being under the watchful eye of her regent. A royal guard's duty is to protect, to watch, and to be a symbol of her highness's power.
When she sees a beautiful woman from a foreign land with a power she never could have imagined effortlessly overpower the woman she believed most untouchable, will she rush to her defense, fall alongside her... or something else?
A tale weaved out of the threads of fantasy, of knights and queens, of sorcery, mental control, and sapphic desire.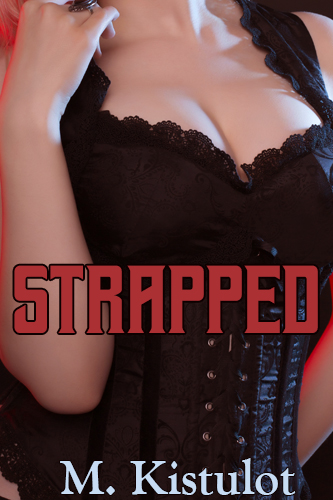 Strapped
Things are exciting for Janine. She's has finally graduated high school, and soon she'll be moving on to college to pursue her art professionally.
She's always been very close with her stepmother Denise. In fact, without her help it's unlikely she would have graduated on time at all. But are there any other lessons that Denise has to teach her stepdaughter, any final wisdom to impart before her big girl goes off to college?
A tale of taboo lust, forbidden desires, and erotic mind control.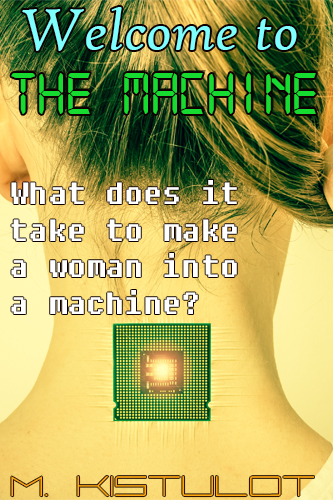 Welcome to the Machine
Malissa has been on a downward spiral for a long time. After an incident where she lost her partner that left her disillusioned and miserable, she walked away from the police force. She tried to search on her own, to find any evidence to give her a trail to follow, but no witnesses want to talk and whoever is responsible is good at covering their tracks.
Now, she's going to have her opportunity.
Will she be able to save her partner Karen from the evil women who may have turned her into a walking fusion of woman and machine, or will she be lost to the very same conspiracy?
A story where women are turned into drones, women love other women, and the lines between what one is told to want, and what they actually want, are so thin as to be invisible.
Mentis Scripturum
A woman tells a story of the day she received a mysterious letter. The more she read it, the dizzier she became, and then that night she got a mysterious call. She's not a lesbian, not usually, but this woman telling her to do anything... she just had to! There was no other choice.

It was the way things were supposed to be.

A story of erotic control, desperate yearning, exhibitionism, and self-gratification at the command of another.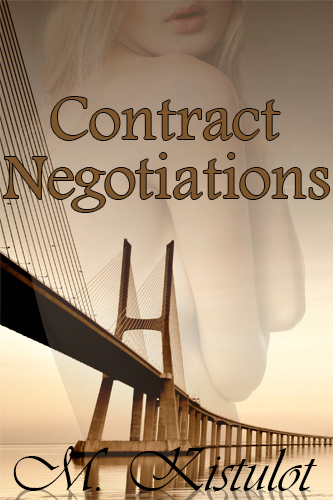 Contract Negotiations
Lindsey has been such a special person for Tara. Until recently, she was incredibly sure they'd be together forever, always in love, and always so close.

Things started to change after... the contract.

It seemed like a harmless bit of fun at first: introduce hypnosis into their relationship, and make it so Tara could feel safe because the terms of her submission were clearly laid out, but... something feels wrong. Something doesn't feel like it's supposed to feel.

Is there more to Lindsey's games with Tara than dominance and submission, or does Tara just need to adapt?

Contract Negotiations is story of love, lust, and shifting priorities as Tara feels herself lost more and more, and Lindsey is there to help...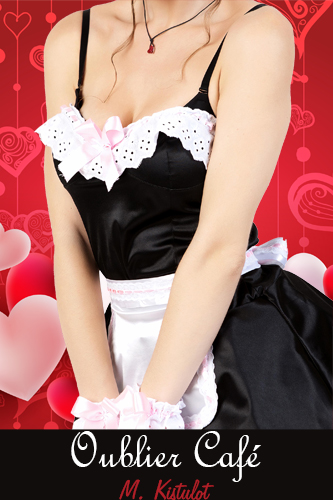 Oublier Café
Cassandra has always been fascinated with the concept of maid cafes from watching entirely too much anime but she never thought one would pop up in her own town in the United States!

Now she has an opportunity to explore this fantasy. of course, she'd only ever let herself go if it was the one time. She's never been before, and she'll never go again.

But does the cafe hide something more sinister? Do the maids have something planned for her?

A tale of seduction, fantasy fulfillment, and hazy memories.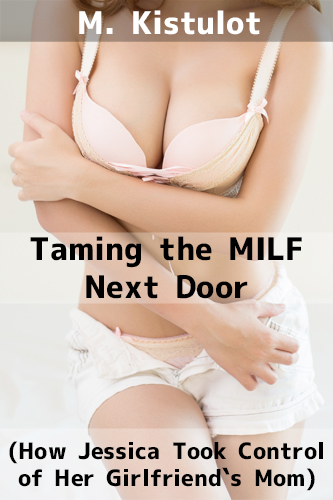 Taming the MILF Next Door: (How Jessica Took Control of Her Girlfriend's Mom)
Linda is a happy stay-at-home mom who is very happy with her life. Her husband is a decent man. Her daughter is doing well in school, and she has a girlfriend who treats her well. In fact, her girlfriend is around a lot, and really seems to be making her daughter happier than she's ever been before. When, during the middle of her school day, Jessica is outside her front door wanting to talk, everything is about to change for Linda, and fast.

A tale of age gap seduction, erotic power exchange, and a precocious young woman showing an older woman just how much she's been missing, and how much more satisfied she could be if she let her daughter's girlfriend take control.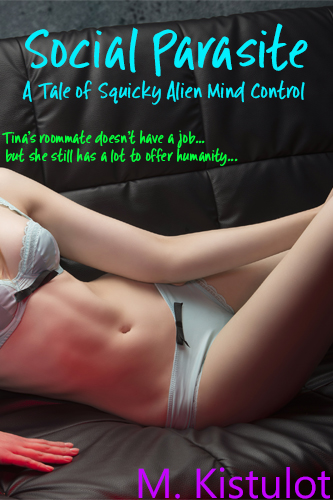 Social Parasite: A Tale of Squicky Alien Mind Control
Tina is a woman just trying to do her best to get by. She works in a call center, and her best friend and roommate, Cindy, lost her job about a month ago. She's thankful to have someone she gets along with so well to talk to, even if Cindy can't contribute as much financially.

But something about Cindy seems... different. That change might be the best thing that's ever happened to them, at least, if Tina doesn't find out what's happening to them both while she can still put up a fight.

Social Parasite is a tale of lesbian lust, and squicky alien mind control.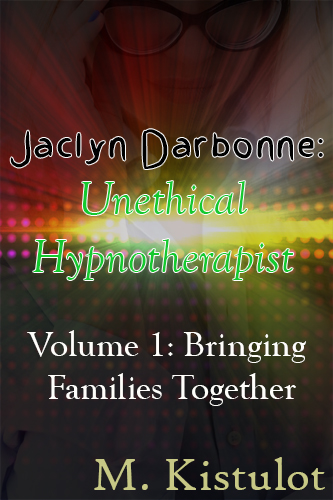 Jaclyn Darbonne: Unethical Hypnotherapist Volume 1: Bringing Families Together
Madeline is worried about her daughter Kelly. She spends so much time hanging out with her friends, and not enough time working on her schoolwork. Given her own similar behavior meant she dropped out of high school to raise a daughter, she's understandably worried.
Kelly is sick of Madeline failing to understand that her school-social-life balance isn't as skewed as it looks. She won't be valedictorian, but that's no reason for anyone to suspect that she's failing school or that her life will fall apart.
Jaclyn Darbonne is the only therapist that Madeline can find with a spot open on such short notice. Can this woman help them figure out how to get along again, or does she have other ulterior motives that may not end with the family closer to each other than they should be, but perhaps closer to her?
A story of unethical therapy, and unethical erotic lesbian hypnosis.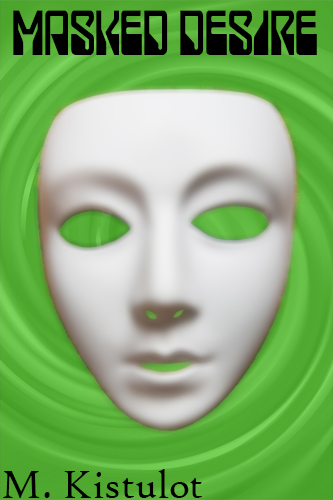 Masked Desire
Jennifer awakens, naked, strapped to a cold, metal chair. Something is lowering down on her from above, casting a shadow over her face. In the shadows, a woman watches, waits, for the mask to lower onto her face. She already knows what's going to happen. This isn't the first time she's watched it. This won't be the last... but each time is special as a woman loses herself to the power of the mask.
A science-fiction slice of lesbian fetish erotica full of thigh clenching terror and toe curling lust.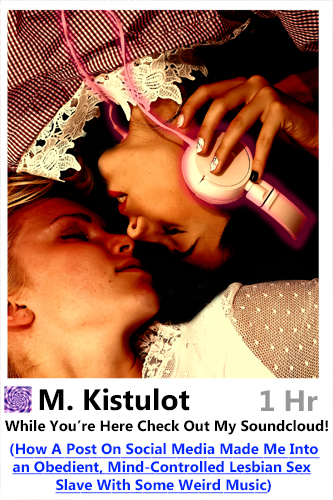 While You're Here Check Out My Soundcloud! (How A Post On Social Media Made Me Into An Obedient, Mind-Controlled Lesbian Sex Slave With Some Weird Music)
Laura is enjoying the start of her freshman year of college. This is supposed to be 'real life' but things don't feel all that different yet, except for one major difference. Now? She has privacy. Now? She can spend hours doing whatever she wants with no one expecting her to be anywhere or having a chance to interrupt. This means, of course, that she does what anyone does with privacy and free time...
She browses social media to see cute cat memes.
After seeing a particularly clever meme Laura sees that the woman has a link to her soundcloud. Curious about what sorts of music a woman who made such a cute, clever meme might post, she eagerly listens in... and her life is changed forever as she is caught up in a hot, wet, sticky web of lesbian lust that may draw in more than just Laura...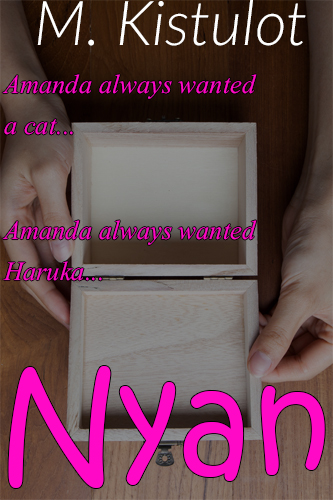 Nyan
Amanda has been in love with Haruka for a very long time. For longer than that, Amanda has wanted a cat. Thanks to something very special, Amanda might be able to get both of those things, and never need to be lonely again.
A tale of a new lesbian relationship, and feline transformation both mental and physical.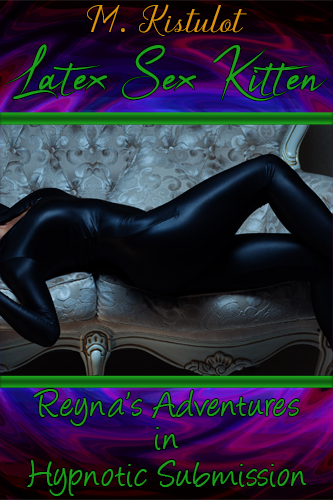 Latex Sex Kitten: Reyna's Adventures in Hypnotic Submission
Reyna has been the submissive pet of her mistresses Penelope and Irene for such a long time she can barely remember life without being helplessly under their control. She wouldn't want to, either. They treat her so well. They love her so much. The sex is amazing, and they're both such tender, amazing women.
For the past couple monthns, Irene and Penelope have been slowly programming Reyna, training her for one intense session of sex and hypnosis. The latex bodysuit has finally arrived... and it's time for them to all indulge in a day of lesbian lust, hypnosis, erotic power exchange, and the truth that they'll all be cuddling for hours once it's finally over.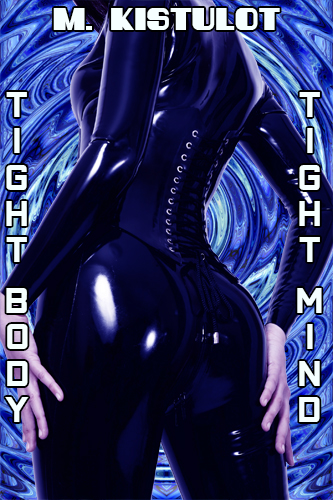 Tight Body, Tight Mind
Dahlia has had a fetish for latex for a very long time, but she's never had a chance to indulge it before. Now, thanks to her order finally arriving, she has her chance to indulge... but will she only be pulling latex taut around her body, or will it end up just as tight around her mind...?
A story about the erotic allure of latex, sapphic mind control, and serial recruitment.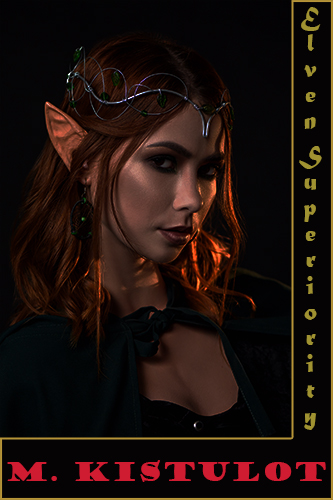 Elven Superiority
Teagan loves nothing more than antiquing. When she comes across a piece unlike any other, a most unusual golden tiara, she may find that she's found more than just a unique piece of jewelry. Her free will, and her very existence might be at stake...
And that's without considering the consequences for her roommate, or her roommate's girlfriend...
A tale of erotic mind control with elves, magic, scent based manipulation, and lesbian lust.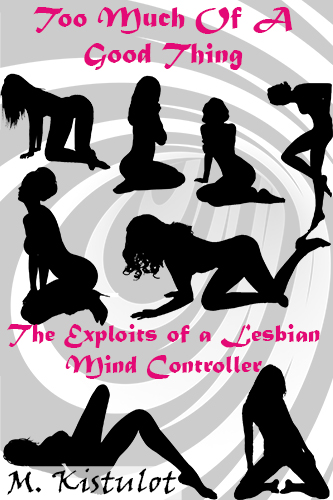 Too Much Of A Good Thing: The Exploits of a Lesbian Mind Controller
A lesbian mind controller is out for a stroll when what should happen, but a sexy super heroine flies down, confident that she's going to be the one to finally put an end to her evil ways. Unfortunately for her, this mind controller has been around the block more than once. She knows what she's doing, and she isn't about to go down so easily. With barely any effort at all, this new super heroine is now her eager thrall…
But what is the mind controller going to do with her new prey?
She already has so many slaves, and this one doesn't seem to fit into any obvious purpose. Will she find a use for this lovely new super heroine? Will she enjoy taking her, body and mind?
A tale of sapphic mind control, lesbian slaves, and other twisted debaucheries taking place in a self-contained world where comic-book super heroines are common enough that this woman has a collection.
Now available on kindle! Now available on Smashwords!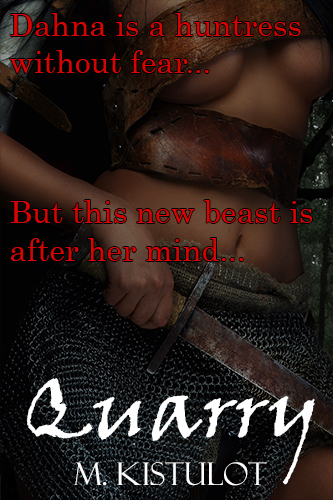 Quarry
Dahna is a part of the Great Hunt, a group of Hunters and Huntresses who go deep within the Great Forest to retrieve valuable resources and slay vicious beasts that threaten civilization. When a new, unknown creature is reported to move through the nearby woods, Dahna goes in ahead of everyone else to seek out ever greater glories. She's challenged so many creatures and came out on top… but this creature is unlike any other. The others threatened her body, her life, her physical wellbeing.
This creature is after something very different… and she may not be ready for what that means.
A tale of lesbian lust, unusual creatures, tentacles, and mind control.
Now available on Amazon! And on Smashwords!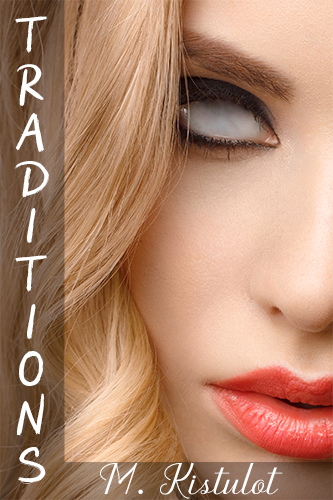 Traditions
Veronica has recently achieved her degree. As if that wasn't enough to celebrate, it's also her birthday! What better time for her mother to induct her to a special family tradition and give Veronica her birthright? Without any clue what this tradition is, or what it will mean for the rest of her life, a blindfolded Veronica follows her mother to her destiny...
Veronica isn't the one with her mind at risk... but someone important from her past may not be so fortunate.
A story of lesbian mind control, betrayal, and one woman's mind being devoured that another might embrace her true self.
Now available on Amazon and Smashwords!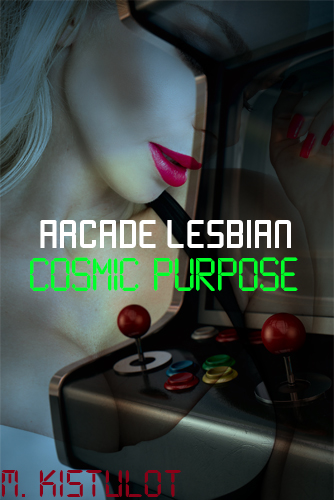 Arcade Lesbian: Cosmic Purpose
Katie never thought she'd find a brand new arcade in her familiar mall. Lured in by the promise of her favorite game, she finds herself so much more engrossed than she ever was before. She had such nostalgic memories, but she never remembered feeling quite so amazing when she used to play... but that quickly becomes something she couldn't care about any less.
Before long she's sucked in, unable to leave as she finds it easier and easier to lose herself in the game.
Lost in a hobby made so much more addictive by mind numbing pleasure, Katie may quickly be well in over her head. Can she keep her mind, or will she succumb to lesbian lust as her mind and body are both claimed by another?
Now available on Amazon and Smashwords!